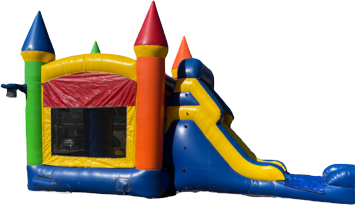 3 N 1 Bounce & Slide
Introducing our 3 N 1 Bounce and Slide Combo Rental, the ultimate inflatable rental experience that promises non-stop fun and excitement! Bursting with a vibrant kaleidoscope of colors, the 3 N 1 Bounce and Slide Combo Rental offers an array of activities that will keep the little ones entertained for hours.
At the heart of this inflatable bounce house rental with slide is a sprawling jumping area, providing ample space for kids to bounce to their hearts' content. It's a boundless playground where their energy knows no limits. Inside, an exciting surprise awaits - a basketball hoop, perfect for slam-dunking and practicing those shots with friends.
But that's not all; the adventure continues with a thrilling climbing wall that culminates in a thrilling slide. Kids can ascend to new heights and then glide down for an exhilarating descent, making the 3 N 1 Bounce and Slide Combo Rental an all-encompassing source of amusement.
We haven't forgotten about the non bouncers either! This versatile rental features an additional basketball hoop on the outside, allowing all to join in the fun, whether it's a friendly shoot-out or a slam-dunk contest.
The 3 N 1 Bounce and Slide Combo Rental is a fantastic choice for a wide range of events, from birthday parties to community gatherings and beyond. With its eye-catching design and multifaceted activities, it's sure to be a hit with guests of all ages.
Don't miss the opportunity to elevate your event to the next level of excitement. Secure the 3 N 1 Bounce and Slide Combo Rental today, and watch as the laughter and enjoyment unfold!