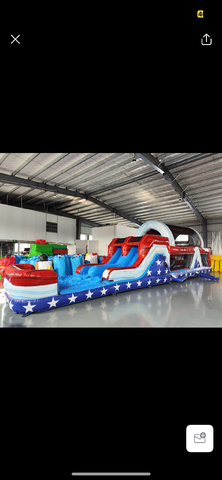 46' American Obstacle
Outlets: 1
Age Group: All
Attendants: 1




Rent our amazing 46' American obstacle course with duel lane water slide this can be wet or dry. Don't hold off this unit books out fast and will bring excitement to your next event.
Introducing the 46' American Obstacle, the ultimate adventure experience for thrill-seekers of all ages. This impressive obstacle course is designed to challenge and entertain, providing an adrenaline-pumping adventure like no other.
Standing at an impressive 46 feet tall, this obstacle course features a variety of exciting elements that will put your skills and determination to the test. From towering climbing walls to heart-pounding slides, this course offers a thrilling combination of physical challenges and exhilarating fun.
The 46' American Obstacle is built with safety in mind, featuring high-quality materials and sturdy construction. With its durable design, this obstacle course can withstand even the most enthusiastic participants, ensuring hours of non-stop excitement.
Perfect for events, parties, and team-building activities, the 46' American Obstacle is sure to be a crowd-pleaser. Whether you're hosting a corporate event or a birthday party, this obstacle course will keep your guests engaged and entertained for hours on end.
Not only does the 46' American Obstacle provide an unforgettable experience, but it also offers a great opportunity for friendly competition. Challenge your friends, family, or colleagues to see who can conquer the course in record time, adding an extra element of excitement to your event.
So, if you're looking for an adventure-packed attraction that will leave a lasting impression, look no further than the 46' American Obstacle. Get ready to push your limits, overcome challenges, and create unforgettable memories with this thrilling obstacle course.