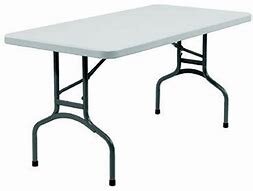 6ft Folding, Rectangular, Off White Table
Rectangle tables are available for your next party as well as all of our other party rentals. We haven't forgotten the staples of most parties, tables and chairs. Here you can rent 6' or 8', your choice! We rent out these tables for just about any type of party, it doesn't have to a carnival. We work with wedding parties and bridal showers to name a few. Perhaps you are having a family gathering and don't need inflatable rentals or photo booths but need some simple tables and chairs, we have you covered.
As with all of our party rentals our tables will be delivered to your party before the guests arrive. If you plan to decorate the tables, you might want to plan ahead and give yourself some time. We do ask that you don't use streamers on our equipment as the dye will stain and is hard to get out. Once your party is complete, we will be back to pick everything up.
Size: 8' or 6' Your choice.