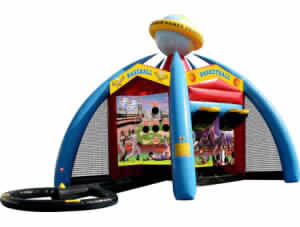 World of Sports Game
This inflatable play structure is very popular among those looking to throw inflatable carnivals. This has dart/frisbee, baseball, basketball, football and soccer all in one . All the accessories needed to have a great time will be included with the inflatable rental. This is a lot of fun for kids as they can challenge each other and have a little fun. Each player gets a chance at each of the sections or have lines of the different sections. How you run it is up to you.
We deliver all of our inflatable rentals before your guests arrive. We take the time to inspect the rentals to be sure that they will be in proper working order. When you are done with your party, we will come back by and pick everything up. It is that simple. Book today and let us do the heavy work.
Size: 24'x17'x13